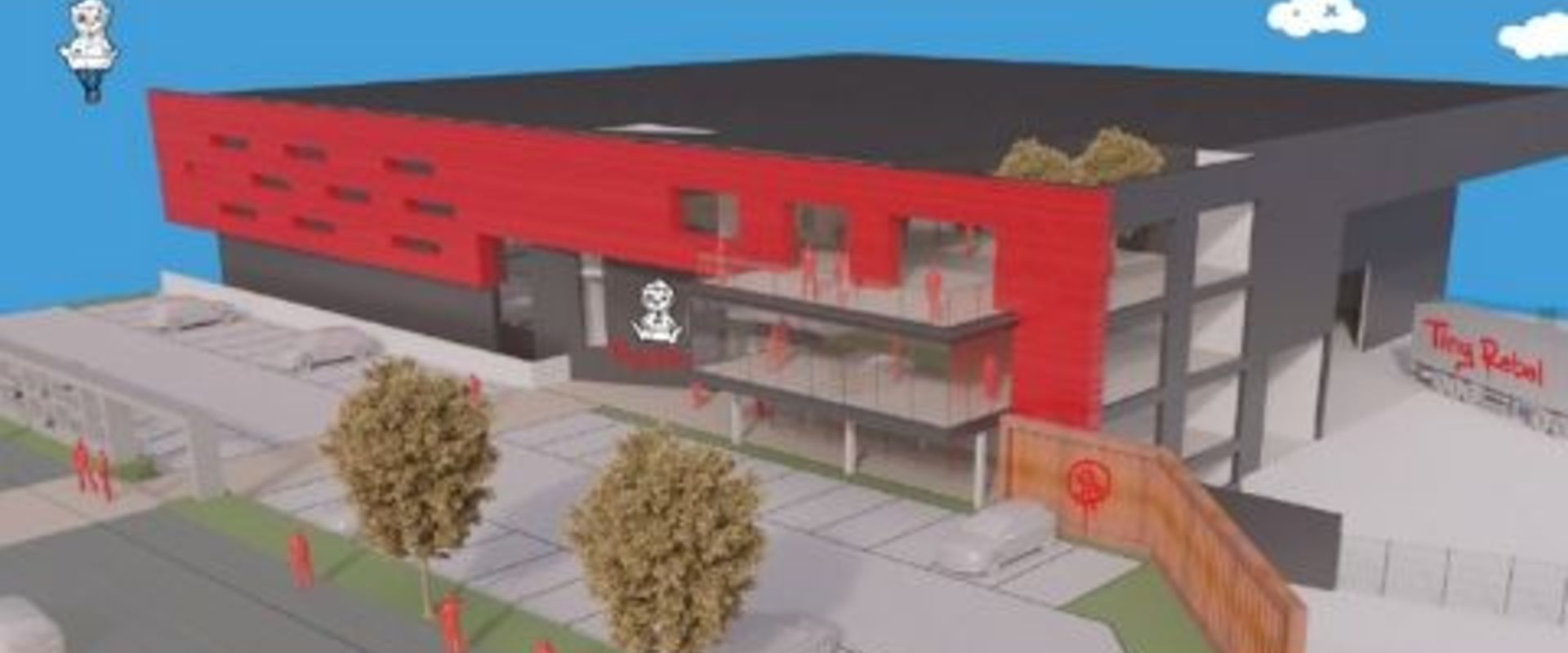 'NOT-SO-TINY' REBEL…THANK YOU!
It's always a very proud moment when we look back at this photo to think it was only 8 years ago that Gazz and I were homebrewing in my dad's garage. I'm now sitting here writing this from our own boardroom, looking out onto our awesome brewery tap room and knowing that we would have never made it to where we are now if it wasn't for our team that's now 124 strong, and YOU...the ones that love our brand, drink our beer and have supported us in one way or another since the beginning.
Our creative director Taz is always hard at work designing every can, bottle, keg, cask clip, imagery and artwork you see. We're forever keeping her busy making a bear for everyone who joins our Tiny Rebel family. These days she's busier than ever.
Since launching Tiny Rebel in 2012 we've been organically growing no less than 50% year-on-year, which means the team has had to grow to cope with demand. We're really fortunate that we've had a solid core team throughout all this time, as well as new fantastic people joining the family bringing expertise in back of house and strength in trade. We've hired the people we think drive consistency and quality of our beers and from what we've seen this has paid off massively.
The more we grow the more we can re-invest in our people, who now enjoy full health care, flexible working hours, the cycle to work scheme, profit share bonus scheme, annual bonuses and most importantly beer allowance and staff discount on Tiny Rebel beer and gear. Looking at our current office space, we're going to need a place for everyone to sit!
Where do we go from here
Last September, we wrote a blog about how our new home was already too small after less than a year. So we went ahead and purchased a 60,000 sqft site directly opposite us to ensure we had space to grow into. If you haven't already, you can read about it here!
The plan is to move the whole of the back office and the entire warehouse across the road so we can give our brewers all the space they need to make the beer you love!
To fit the growing team our new 4-storey office will come equipped with a games room and an amazing rooftop bar and terrace, where staff can hang out and sample all the latest beers. We want to give you as great a product as possible, so all finished beer will stored in our fully refrigerated warehouse, meaning our whole stock is 100% chilled and brewery fresh.
Back over in the brewery we'll be reclaiming the whole of the warehouse, and if you've ever been on one of the fantastic tours we provide you know how much space that takes up. With all this extra room going straight to brewing and packaging we're upping our capacity again and purchasing a new canning line capable of packaging 15,000 cans per hour into multiple pack types. The end result will give us the capacity to brew 21,120,000 pints of beer in the coming years.
The money tree
Since the very beginning we've re-invested every pound we can spare in order to help Tiny Rebel grow. Whether it's people, equipment, events or our community, we always try to put in as much as we can to get the best out. Once it became apparent that re-investing our profits wasn't enough to meet all the demand for growth, we decided to seek out a capital injection.
Lloyds bank have been by our side for the past 3 years, lending us the capital that we needed for our HQ, tap room, brewing kit, packaging lines, fermenters etc and we're grateful that they've been so supportive. A big shout out to Dave and Lesley.
The wish list
This backing has supported the core of our business, but there's a whole heap of other fun stuff that we'd love to do but don't have the capital to do so at the moment.
If you've ever thought it would be cool if we had a tap room in London and Manchester, or that you love our gin and wish we did a rum or whisky distilled right here at the brewery, you're not alone. How does cider made from our own grown apples sound? Picture yourself staying at the Tiny Rebel hotel wearing your Tiny Rebel pyjamas drinking a Tiny Rebel nitro cold brew coffee. Excited yet?
If you're interested in owning a part of Tiny Rebel, so we can use your money to do all of this fun shit...Email us at [email protected]