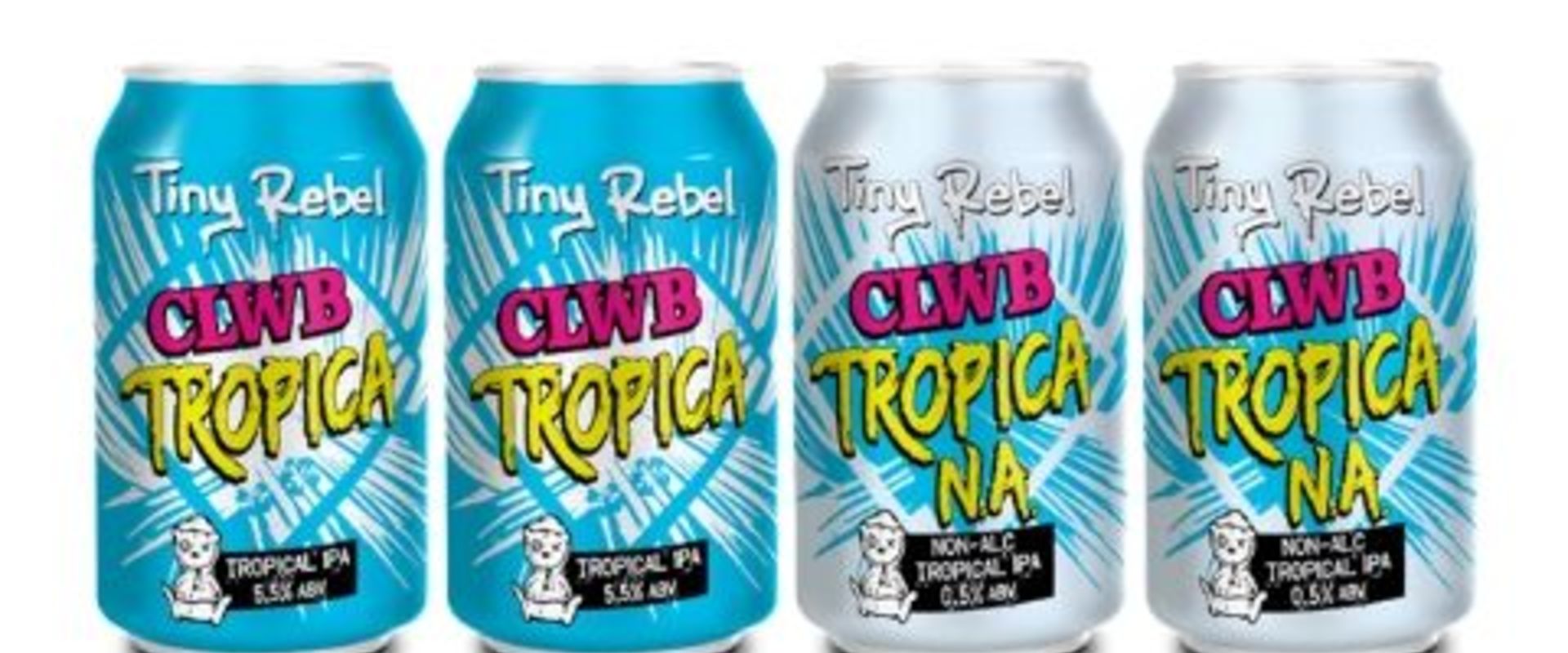 99 PROBLEMS BUT TROPICANA AIN'T ONE
Back in February 2016 Brad and Gazz were sat at the old Brewery pondering what beer they wanted to create next. After discussing flavours, other than just hops, they settled on a Tropical IPA that would be packed full of Mango, Peach, Passionfruit and Pineapple. A mouth-watering IPA amplified by Tropical fruit. Simply a party in a glass with the hope that you might be getting one of your five-a-day from every sip.
Clwb Tropicana was born and started off life as a 2000 litre one-off batch, but fast forward to 2019 and it has become our flagship Tropical IPA. The love we get from fans of Clwb Tropicana is like no other. It's the reason we have 100's of our favourite pubs around the UK pouring it, 36 different countries importing it and we even managed to bring the party to your house by launching it on PerfectDraft earlier this year.
Being our flagship beer, it would have been stupid for us not to try and protect it, so on 29th August 2017 we filed a UK Application to the IPO to trademark the name 'Clwb Tropicana' in class 32 (Beers; mineral and aerated waters and other non-alcoholic beverages; fruit beverages and fruit juices; syrups and other preparations for making beverages).
Our friends at PepsiCo., who own Tropicana Products Inc, were notified of this and felt threatened enough to serve us with a formal notice. Without all the legal mumbo jumbo, this means we have to stop using the name 'Tropicana' before 31 December 2019...or else they take our Tropical fruit loving asses to court.
We won't pretend we're not gutted...but when life gives you lemons, keep making a banging Tropical IPA.
So, if not Tropicana...then what?
Easy.
Clwb Tropica.
Exactly the same, we just dropped the N and A.
Nothing Altered, apart from the name.
Everything you've fallen in love with still remains. The beer is unchanged and still rammed with those tropical Citra, Mosaic and Simcoe hops. Amplified by mango, passionfruit, pineapple and peach. It still makes you want to party, dance and listen to Wham! On repeat.
Every cloud has a tropical fruit silver lining, and, being the resourceful Rebels we are, we didn't want the controversial N and A going to waste...
Clwb Tropica Non-Alc Tropical IPA is coming your way in 2020. Swap your orange juice for a tasty can of 0.5% Tropical IPA and keep the party going for longer.
There we have it. A silver can lining and probably the weirdest source of inspiration for our new flagship non-alc tropical IPA.
GOT QUESTIONS? HERE'S SOME FAQ'S

Will there be a shortage of 'Clwb Tropicana / Tropica'?
We've tipp-exed out the N and A on 100,000 Clwb Tropicana cans, so we're going to be set for the first few weeks.
Do I need to stop selling Clwb Tropicana?
No, we're phasing out Clwb Tropicana. When you order your next batch of beer it will swap over to Clwb Tropica and we'll send out new tap badges etc. with it.
Are Clwb Tropicana cans now worth more on eBay?
100%
I sell Clwb Tropicana and I have some questions...
If you have any queries or immediate issues please email [email protected] or call 01633 547378 opt 3.
What is Tiny Rebel's favourite breakfast juice?
Sunny D
Buy the Beer
Shop Our Beers