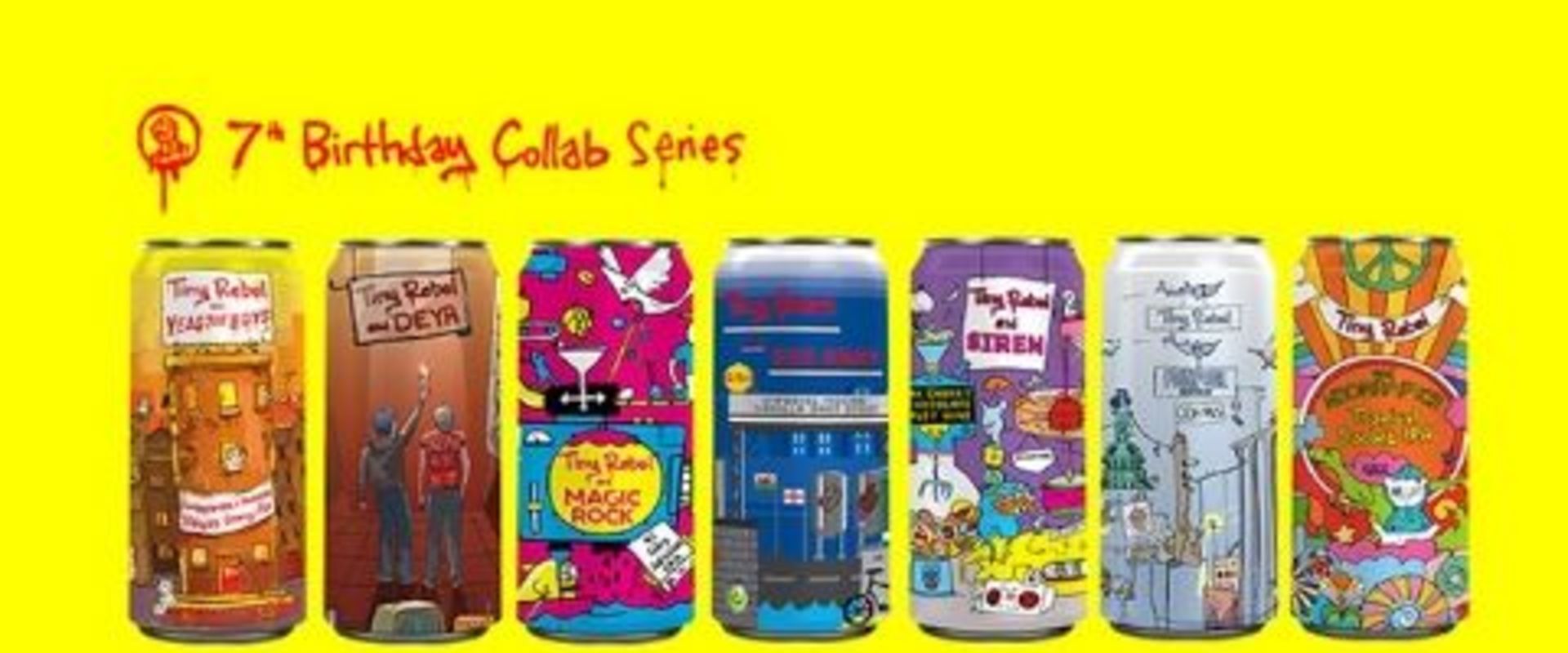 HAPPY 7TH BIRTHDAY TO US!
First blog of the year! And what a blog it is. We've been super busy on some epic projects throughout January, which is why the first blog of the year is coming to you in February. And the first one we have to show you is a beauty! Our birthday is on 14th February soooo….Here's the lowdown of all you need to know about our 7th Birthday.
Seven epic collab beers, our first 440ml cans, and launches in 100+ bars across the country.
Say hello to our 7th Birthday Collabs!
We've collaborated with seven breweries we've been crushing on hard for the last year (at least) to brew some absolutely stonking beers to celebrate another year in the biz. They're going into keg, a couple on cask, and in 440ml cans as part of the 7th Birthday pack, along with one of the sexiest glasses you could ever own.

There's a few special things about this set. Not only is it our first release of 440ml cans (and it definitely won't be our last), each can features unique artwork by our Creative Director, Taz. Each can is standalone - there's no theme, no template or no pre-set formula for Taz to follow. She had total creative control to design a can for each beer individually, rather than as part of a set. As a result, every can is an individual piece of art and you've really got to explore each one to find all the little details and easter eggs, with each one a totally different experience.
We've picked seven of our favourite breweries and invited them to brew a beer that really sums up what we love about them. As a set, it really shows the massive breadth of strengths the UK beer industry has thanks to the huge variety of diverse brewers such as these. With Fourpure, we've brewed a DDH Pils, because their lagers are some of the best in the UK. With Deya, it had to be a mega-juicy NEIPA. Magic Rock brew some of the most drinkable, hoppy, sessionable IPAs in the land, so that's what we wanted to brew with them.
The Full Set
Tiny Rebel x Deya 6.8% NEIPA
Tiny Rebel x Fourpure 5% DDH Pils
Tiny Rebel x Magic Rock 4.0% Citra Session IPA
Tiny Rebel x Yeastie Boys 8.0% Pomegranate & Molasses Belgian Strong Ale
Tiny Rebel x Big Drop 0.5% Not So Imperial Mocha Vanilla Shot Stout
Tiny Rebel x Neon Raptor 4.8% Tropical Sorbet IPA
Tiny Rebel x Siren 11% Dark Cherry & Chocolate Barley Wine
We take one of each of these epic cans, put them into a super-special box together with a gorgeous new glass that will take pride of place in your collection, hand pack all of it and send it straight to you! What could be better than that?!
Given that it's our Birthday on the 14th, we thought it would be best that you celebrate with us on the day, rather than release the beers then for you to drink a few days later. So if you pre-order the pack, it will land on your doorstep ON the 14th! Consider it a Valentine's Day treat for yourself.
Head over to our online shop to pre-order now, and make sure you're among the first to get your mitts on it! https://www.shoptinyrebel.com/
And that's not all - we'll also be releasing the beers on keg in a whopping 100+ bars all across the UK and France on that day. So if you'd prefer, you can actually come out and celebrate with us.
Check out the map in the below link to see where the beers are pouring near you, and click on the pin to see details of each location.
Oh, and if you're coming to Craft Beer Rising, we'll have all the beers on - with a couple on cask. And another little surprise we'll tell you about soon…
A big thanks to all the guys who brewed with us and helped make this birthday our best yet. If you haven't tried any of their stuff before, we really urge you to go out and sample their brews. There's a reason we asked them to celebrate our birthday with us, and a reason we love them so much.
We hope you enjoy our birthday as much as we will! Watch this space for more super exciting projects in the coming weeks!
Buy the Beer
Shop Our Beers