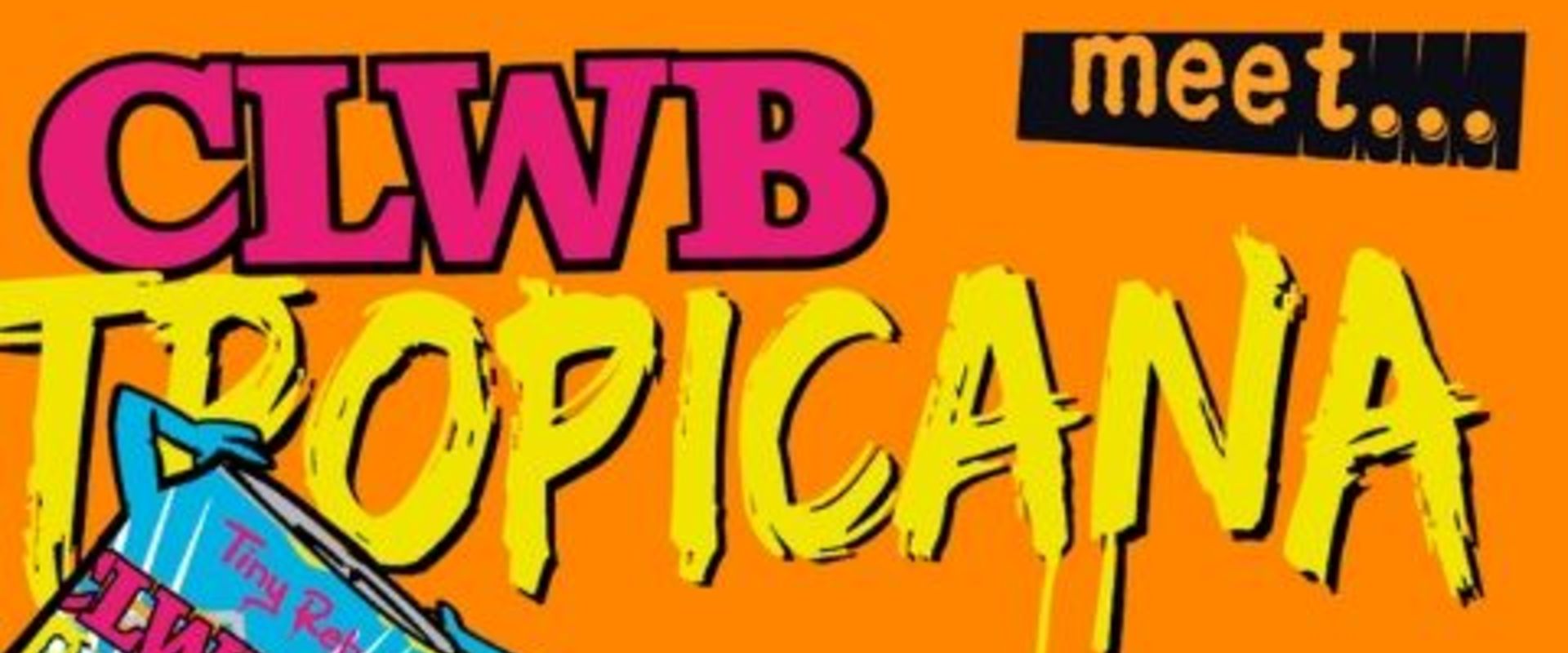 MEET...CLWB TROPICANA
Continuing our mini-series of short features on each of our core beers, we turn to the the third and final beer from our original can line-up - the tropical thunder mouth explosion that is Clwb Tropicana.
We put a little Welsh twist on our homage to the classic track by Wham! (pronounced with the exclamation mark, just as Deadpool would).
We wanted to pack an IPA with the most tropical fruit notes possible. Like, squeeze them in like one of those joke snake-in-a-can things, so when you crack it open they jump out at you.
Step One: Extract the fruitiest flavours from the fruitiest hops know to man. Citra, Mosaic and Simcoe are loaded in to the boiled wort after we turn the flame off, to ensure that those brilliant fruit flavours are not boiled away to just bitterness. Once the beer is cooled and transferred and fermenting, we whack in even more of the same hops to squeeze those really fruity flavours and aromas into the brew.
Step Two: We supercharge the already deliciously fruity brew with bags and bags of even more fruity goodness. Mango, peach, passionfruit and pineapple - a mouth-watering fruit cocktail that gives the beer a tantalising fruit sweetness and the faint hope that you might be getting one of your five-a-day from every sip.
The result is a grown up fruit salad that boggles the mind. Pure tropical amazingness that bursts out like an Hollywood explosion on a fruit and veg stall. It's so fruity that you start to comprehend flavour in terms of colour, and they all clash together in your mind like a hideous-yet-irresistible Hawaiian shirt.
Clwb Tropicana is nothing short of a tropical beach party in a can. It's sunglasses, swimming trunks and cocktails on the beach, but by the pint rather than in teeny-tiny martini glasses.
Originally launched as a one-off in February 2016, it was an instant hit. We claimed to have captured sunshine in a bottle, and between February and the summer of 2016 we had to brew this "one-off" virtually every week to keep up with demand. This fruity little number was transporting people to tropical holidays even in the cold Welsh springtime.
Very shortly after, we decided to include Clwb Tropicana in our core keg line-up, and it was one of the first names on the list of our original canning contenders. Clwb suits cans perfectly - bung a few in the fridge and they'll chill down very nicely. Once you crack it open the whole room will be full of juicy, ripe tropical fruit aromas, and you'll be off in your own little world of sun, sand, sea and succulent fresh fruits. Why put up with jet lag when Clwb will do the job?
Clwb's incredible tropical flavours made it one of the three stand-out candidates for getting our gin treatment. Alongside Cwtch and Dutty, we transposed the flavours of the beer into gins that launched in July 2018!
With this in our core range, we can ensure that there really is enough for everyone. All that's missing is the sea…
Fancy one, or two, or 24? Head over to the online shop!
Buy the Beer
5.5% abv

The UKs No.1 Tropical IPA.

Available in multiple quantities.
Shop Our Beers