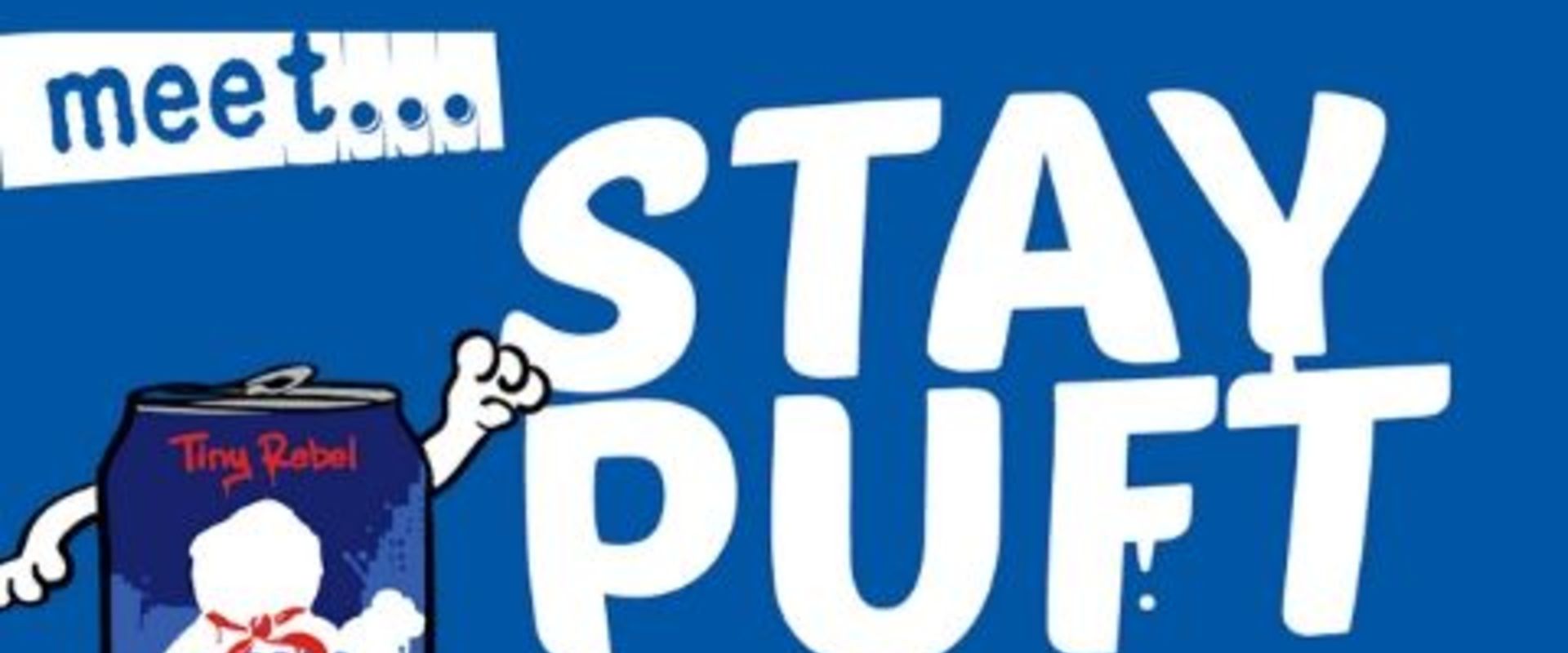 MEET...STAY PUFT!
Continuing our mini-series on each of our six core cans, we now come to a firm favourite and the only dark beer in the line-up. It's the sticky, sweet turn of Stay Puft!
Way back at the end of 2015, Stay Puft was just a twinkle in our eyes. We were talking about how dark beers are massively outsold by pale beers, and thinking of ways of expanding our dark beer offering but with something really exciting.
What we wanted was something totally different to our only mainstay dark beer at the time, Dirty Stop Out, a smoked oat stout. It wasn't over the top on the smoke - there was just a hint to give it something different but not to the extreme. With our new beer, we wanted something similar - different, but not over the top. Instead of smoky, we wanted to go to the other end of the spectrum, wit something sweet and roasty.
Thinking of sweet flavours that would pair with the roasty qualities of dark beer took us through the usual chocolate and coffee ideas. But they'd all been done before! There's loads of dark beers that really play on those typical roast flavours, and loads of them are delicious. We don't doubt that we could brew one that would be equally banging, but the thought of it didn't excite us as much as looking for something totally new. We wanted something more. Or something...s'more (sorry).
So we brewed a rich, dark, roasty beer and added a few bits to it. Lactose for creaminess and sweetness, vanilla for a bit of balance, and then, with a roasty, smoky campfire in mind...marshmallow.
The name and the design are our little homage to one of the best films of all time. Stay Puft is without doubt the premier fictional marshmallow company, but we wanted to give it life in beer.
Launched at the end of the following January, two brews sold out in just 36 hours. The fastest we've ever sold out of a double brew.
It was originally brewed as a one-off, but public demand took that choice out of our hands. Over the weeks following, we'd brew it again and again and sell every cask. Who says dark beers don't sell unless it's winter?! We were getting into April!
Those original brews were for cask, but we very quickly dreamt up a keg version made even creamier with nitrogen. Then we decided to bottle it. It very quickly became one of our most popular brews.
When it came time to pick three new cans, Stay Puft was the first name on the list. We wanted our six pack to be the best representation of our range, so having a spectacular dark beer in there was a must. Stay Puft fits that bill perfectly.
It also shows how versatile beer can be with flavour. It's not always about hops, and additions aren't limited to fruit, botanicals or chocolate. It's the perfect introduction to the more creative side of brewing.
We've released a couple of Spin Offs to the original Stay Puft - a Chocolate version brewed with sacks and sacks of cocoa, and Imperial Puft at 9% ABV - and then of course we had to combine those for an Imperial Chocolate version, at 9% and with double the cocoa. But the original will always hold a special place in our hearts...and our core range!
If you fancy trying Stay Puft for yourself, it's over on the online shop along with all of our other core beers!
Buy the Beer
Shop Our Beers