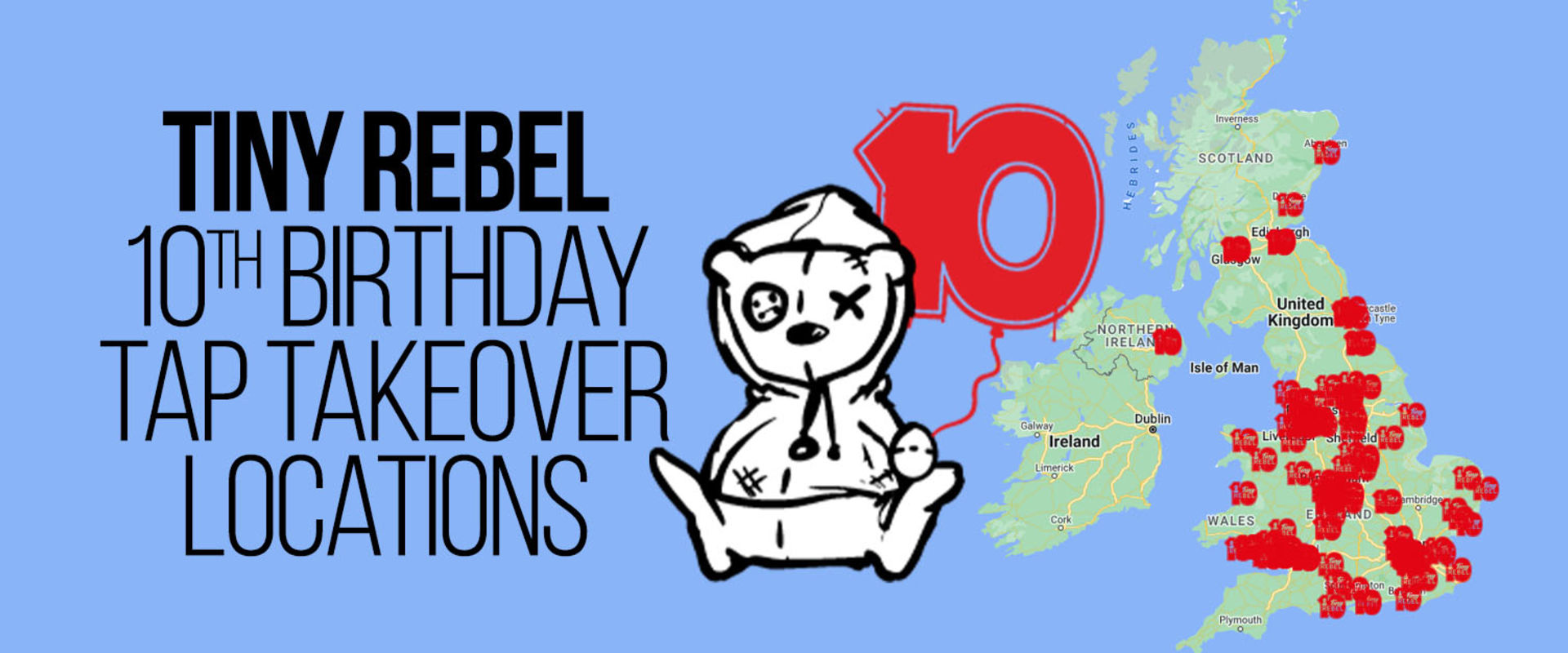 Tiny Rebel 10th Birthday Tap Takeovers
So this is it, our 10th year and we've been working closely with some of our amazing customers to organise one of the biggest tap takeovers we've ever organised.
Have a look on a special map we've setup and will keep as current and up to date as possible (click below).

From Aberdeen to Belfast to Canterbury, check the map today to see if you have a local pub or bar that has a Tiny Rebel Tap takeover!!
It all kicks off on the 30th June! Don't miss out.
Peace ✌️
Beers are available in multiple formats; keg, cask and, as shown here, can. Not all beers will be available in all locations, but they are....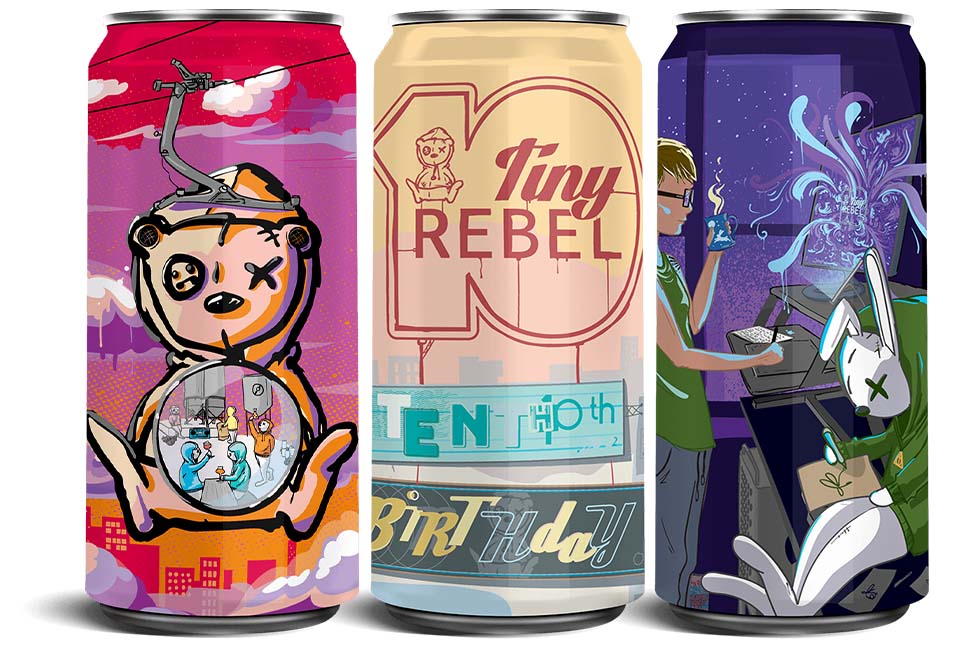 Imperial Bourbon Pecan Pie Pastry Stout - 9%. Indulge, yes please! Rich maple bourbon pecan pie wrapped in a pastry stout.
Wood Aged Belgian Birthday Cake - 11%. It's our birthday so this was a must. Strong notes of vanilla, oak and chocolate. The only thing missing, the candle.
Cold Fermented IPA - 4.5%. This beers is fermented at a much lower than normal temperature, giving better mouthfeel, a fuller body and rounded bold flavours.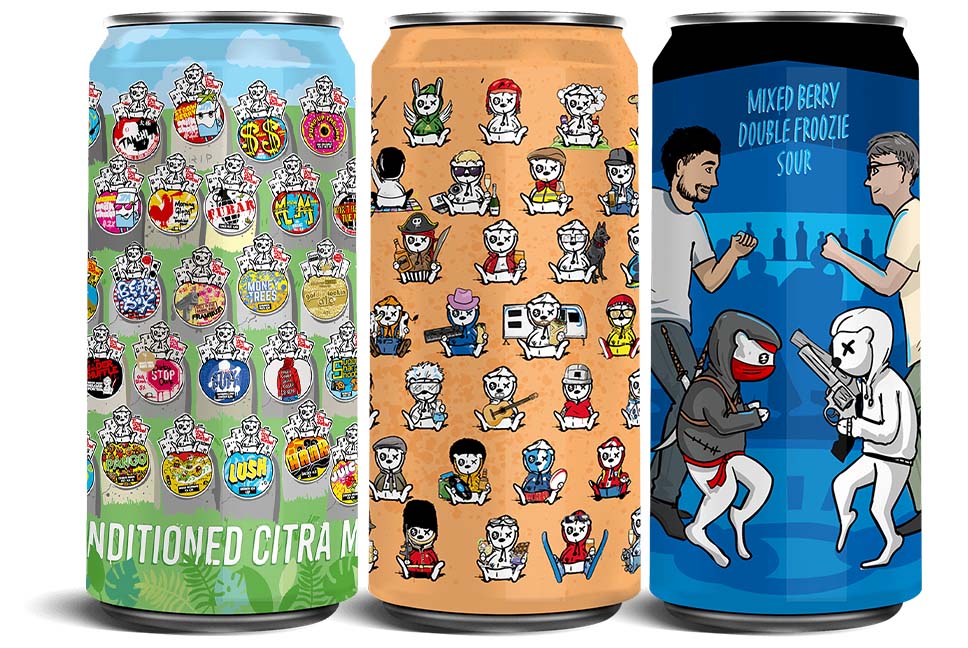 Cask Conditioned Citra Milkshake IPA - 4.2%. We love cask here at Tiny Rebel HQ. This beer is as close to a cask beer as possible from a can, smooth and silky.
White Chocolate & Caramac Pale Ale - 7%. Caramac is back and we've rediscovered our love. We've blended it with white chocolate to create a velvety smooth and rich pale ale.
Mixed Berry Double Froozie Sour - 7%. Our latest passion, Froozie Sours. Full of blackcurrant for a tart jamminess.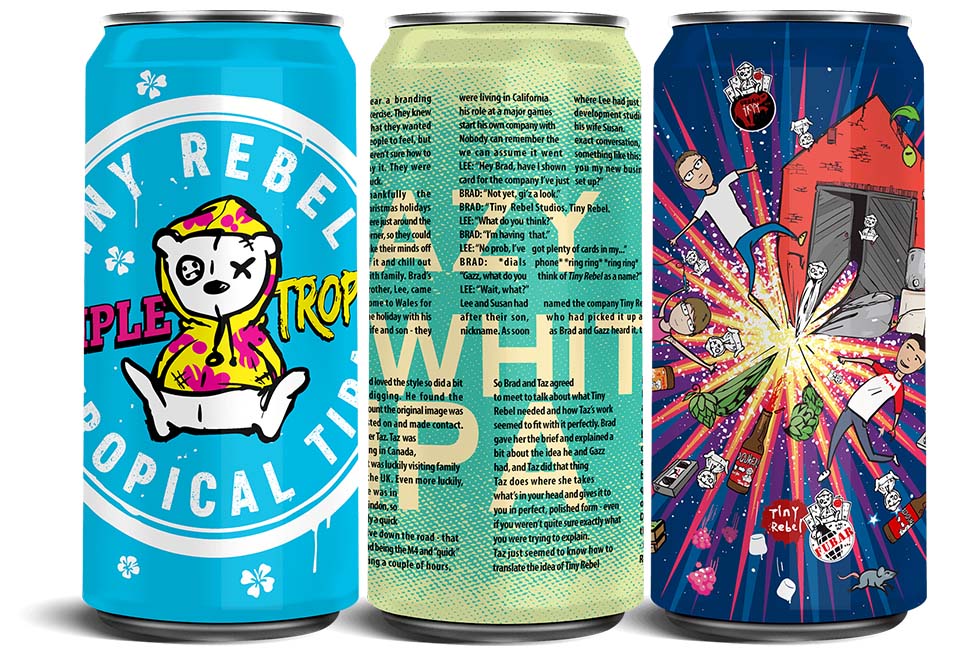 Triple Tropica - 10%. Our OG, Clwb, but triple the recipe, triple the flavour. Not to be missed.
Hazy White - 4.4%. American IPA and Belgian Wit married for a fruity, spicy mix. A light bready maltiness and a dry refreshing finish.
Vic Secret On Galaxy DIPA - 7.2%. Two of our favourite hops for a bright tropical double IPA full of burnt orange and peach.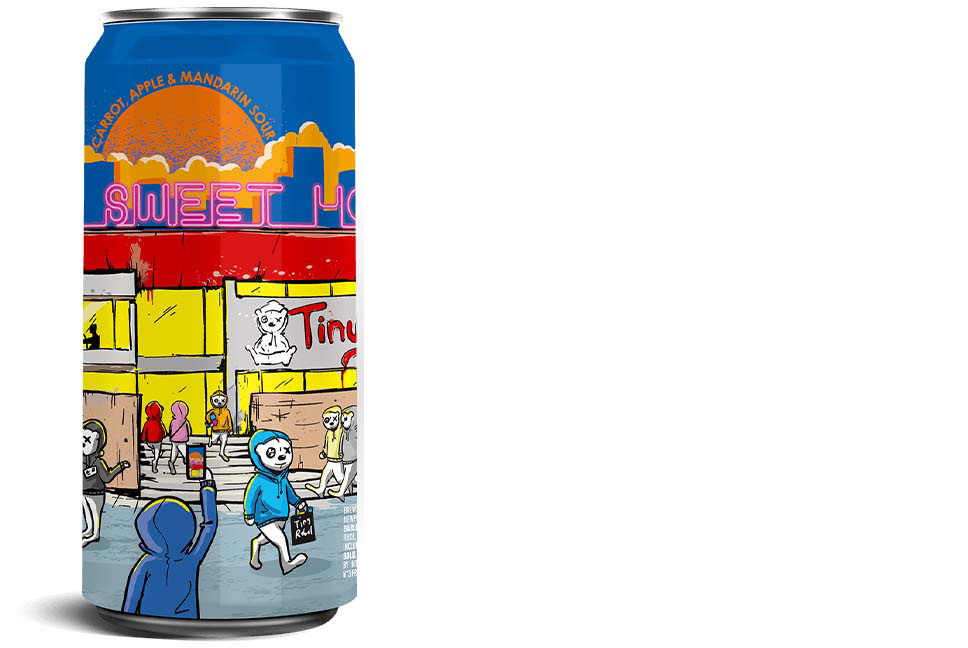 Carrot, Apple & Mandarin Sour - 5.8%. Carrot, but not as you know it. Alongside fruit, a perfect balance of sweet and sour.

Birthday Stay Puft - 10%. Marshmallow & Salted Caramel Birthday Cake Porter. We couldn't not have a Stay Puft special now, could we?
ODB - 4%. Umeboshi Plum Mild beer. Concoction dreamt up by our Cardiff bar. Tart, tangy and delicious plumb beer.
Baby Cakes - 5%. Double Oat & Rusk Milk IPA. A collab with our very own Newport bar. Smooth and creamy, highlights of biscuit and herbaceous citrus notes.
Thai IPA - 4.5%. Thai Infulsed Pale Ale. Cocktail of spices including lenomgrass, Kaffir lime leaves, coconut and cardamom. Cheers.
Enjoy guys....we know we will.